Realising new levels of productivity at IHH Healthcare's future proof workspace
This leading global healthcare provider used its headquarters relocation as an opportunity to reconfigure the office environment and introduce new ways of working.
With a clear focus on wellness, collaboration and technology, we have transformed our HQ from a traditionally structured office into an engaging and flexible workplace. Our office adopts innovative work methods that are squarely aimed at disrupting the widely held notions of how and where people choose to work.
Johnny Goh,
VP & Head,
Corporate Real Estate Services (CRES)
JLL's integrated team brought together workplace consulting, design, and technology expertise to create an engaging and flexible workspace for IHH's team.
Breaking loose from past workplace constraints
IHH Healthcare is one of the world's largest healthcare networks, with eighty hospitals in ten countries. The Singapore-based company is the worldwide parent of such trusted hospital brands as Acibadem, Fortis, Gleneagles, Mount Elizabeth and Pantai. Their focus on making healthcare better, faster, easier and more affordable for their patients is an important success factor and part of their culture.
IHH's headquarters move prompted a re-think of their workplace strategies and office design. IHH Singapore's Corporate Real Estate Services division turned to JLL to help achieve new global standard levels of productivity, experience and efficiency.
IHH was previously located across two floors in a building near Orchard Road. Physical barriers between departments created siloes and the traditionally designed floorplan had few social and meeting spaces. The dated fit-out consisted of traditional assigned offices and seats to each team member, resulting in valuable space taken up by document filing and storage.
Finding opportunity in change
The opportunity to design an office from scratch enabled IHH to embrace changes in workplace culture such as health and wellness and remote working that were accelerated during the pandemic.  The objective was to create a flexible activity-based environment that meets every employee's work and lifestyle needs while helping IHH to achieve its patient satisfaction goals. Smart use of technology and sustainability were also key considerations in developing an employee-centric workplace.
IHH moved to HarbourFront Tower 1 because of its single open, efficient floor with the flexibility to expand to meet future business needs. Our Office Leasing Advisory, Workplace Consulting, Change Management, PDS Design and Cost Management teams worked together seamlessly to provide IHH with integrated services that spanned leasing, design and the use of space to balance IHH's future-of-work and operational requirements.
Firstly, an engagement exercise was conducted to understand the needs and ambitions of IHH's management and staff. This resulted an in-depth workplace study including leadership interviews, staff survey, and focus group workshops. Our Workplace Consulting team developed an evidence-based strategic brief with future-of-work recommendations.
The focus of our comprehensive, cohesive approach was to help the IHH team bring their best selves to work, across all aspects of their experience. Our Interior Design team worked closely with Workplace Consulting to translate the workplace requirement and recommendations into a state-of-the-art design for IHH headquarters.
New levels of productivity, efficiency and employee experience achieved
The dedicated One JLL team created a workspace that stimulates employee health and well-being and company culture and helps IHH put their patients' needs first to build lasting relationships based on trust.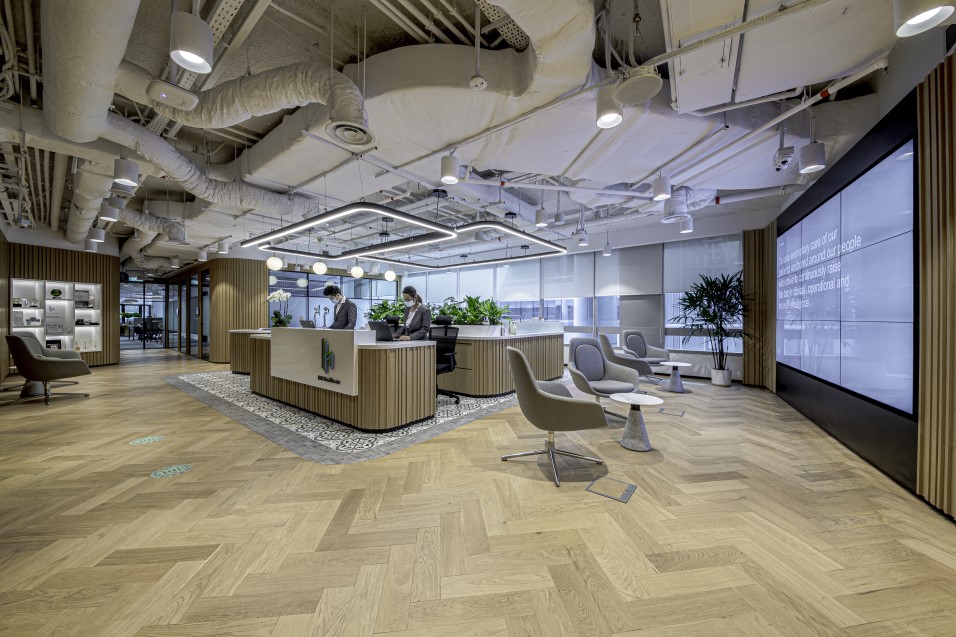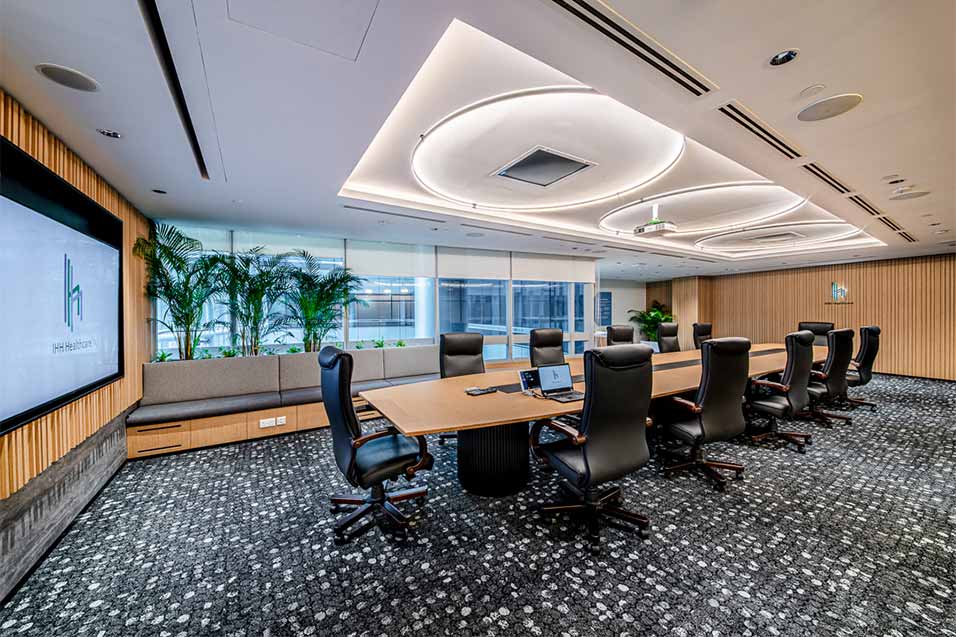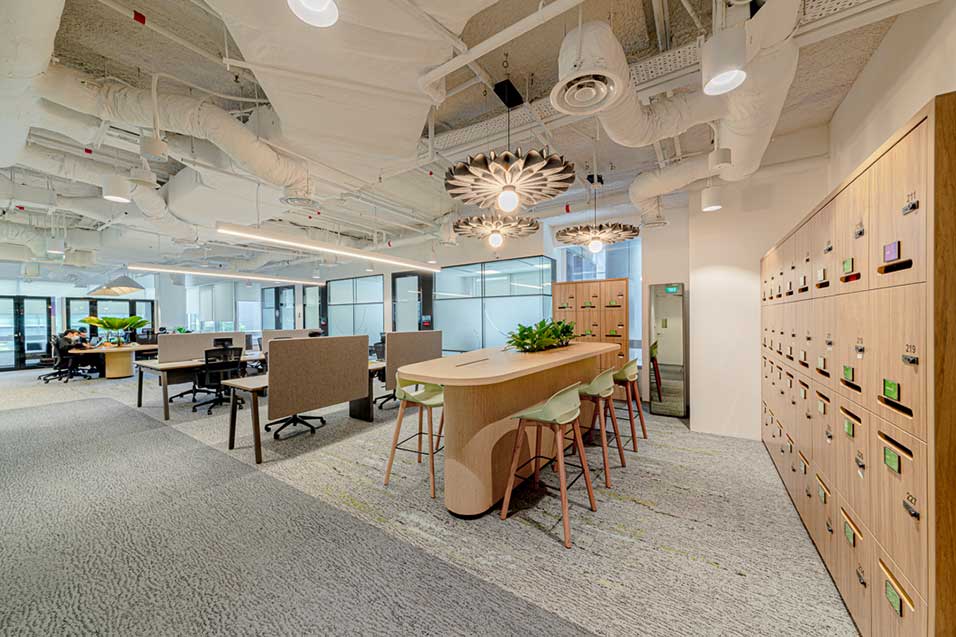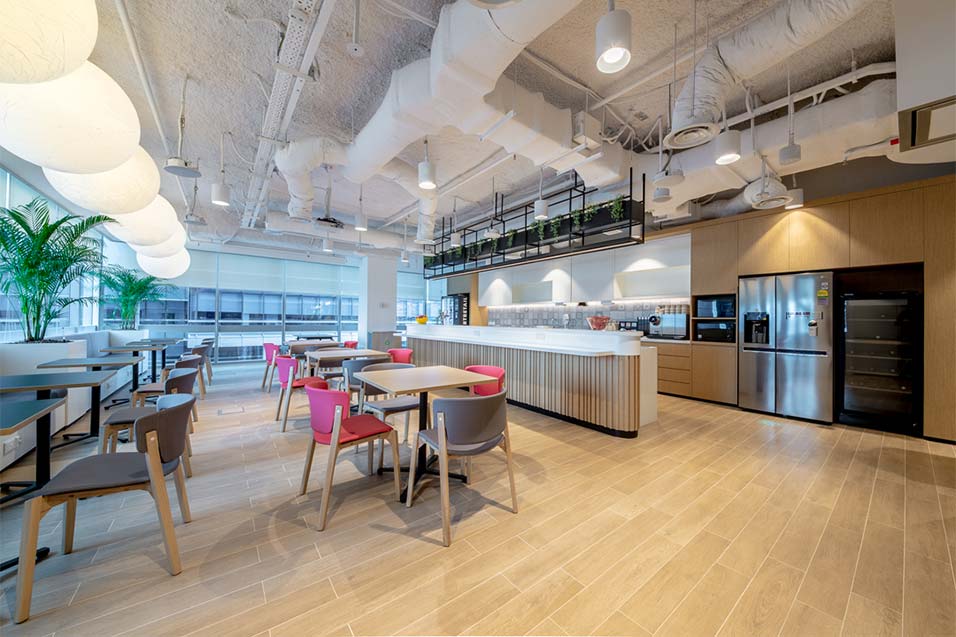 Employees choose the places to work in the office that best align with the nature of the tasks they are doing. There are dedicated spaces designed for focused and individual work, as well as more collaborative and social areas. For example, semi-open booths for informal discussions, meeting rooms that can also be used for training and wellness, and soundproofed phone booths for quick conversations. All workspaces can be quickly found and booked via mobile, the web or Microsoft Outlook. The system allows the tracking the use of space so data insights can be used to make changes according to team needs.
Common spaces include the reception area, with community ambassadors who provide assistance for all colleagues and visitors, a café served by a barista, a recharge lounge, a tech bar, a faith room, utility areas for printing and other tasks, and a mother's room.
We developed a workplace etiquette guide that explains the new facilities and ways of working so that employees get the most out of the flexible, sustainable, technology-driven solutions in the office.
The workplace changes have resulted in a positive impact across IHH's management and staff. Departmental siloes are gone, with all teams working together on a single open plan floor. With increased space efficiency, the new headquarters supports post-pandemic hybrid working, with plenty of capacity for future business growth.
The new headquarters helps IHH attract and retain the next generation of talent, and sets a new workplace standard for future offices as IHH drives the next phases of its transformative real estate strategy.