Reimagining standards for the future of work
A healthy, sustainable and state-of-the-art office that heralds the return to the office and underpins JLL's presence in Singapore's CBD.
Size
23,595 sq ft
Grade A office space
- JLL: 16,438 sq ft
- LaSalle: 7,157 sq ft
People
Home to over 200 JLL and LaSalle colleagues
Spotlight
Fully equipped media room to improve the way we work
Technology
Presentation Suite offers flexible space for interactive client experiences and internal events
Another step closer to the future of work
At JLL, we know that the workplace is critical for an organisation's brand, culture, operations, and talent attraction and retention strategies.
We help Singapore's most forward-thinking companies reimagine the future of work, and our new CBD office is a testament to what a well-thought out and meaningfully designed office can do.
Alongside our decentralised headquarters at Paya Lebar Quarter, JLL's new office at CapitaSpring enables us to walk the talk – sharing next-generation workplace possibilities with our clients.
"We transitioned into a cutting-edge workplace that continues to redefine the future of work for us, and one that will serve as a showcase of possibilities for our clients and partners who can come to experience the space for themselves."
Chris Archibold,
Country Head,
Singapore, JLL
Technology to help us work smarter
Various innovations are in place to empower our employees to achieve their goals and propel the business forward.
The state-of-the-art Presentation Suite promises to elevate the client experience with seamless cross-market collaboration. Large-screen panels offer our clients interactive showcases and virtual site visits across the market. A first-of-its-kind Media Room is fully equipped to facilitate multimedia content creation, enabling our teams to connect with our clients and the public more easily.
This office also serves as a testbed for JLL proprietary technologies. Using one mobile application, our colleagues can enter the office, book meeting rooms and access their personal lockers.
Workplace experience is key to success
Designed around the surrounding cityscape, visitors to our CBD office are immediately greeted by a breathtaking view of Marina Bay alongside our friendly community ambassadors.
The office is designed to motivate our people to bring their best selves to work with seven types of seating options, including interconnected work neighbourhoods with sit-stand desks, cater to all working styles. Both formal and informal spaces encourage authentic interactions – the social hub, meeting rooms and open collaboration areas are just some options for our colleagues, clients and vendors.
Complementing the conducive and relaxing office design are a stunning sculpture that wraps around JLL's entrance and opens into the vista. Murals commissioned from local artists reflect our people's ambitions and Singapore's vibrant influences.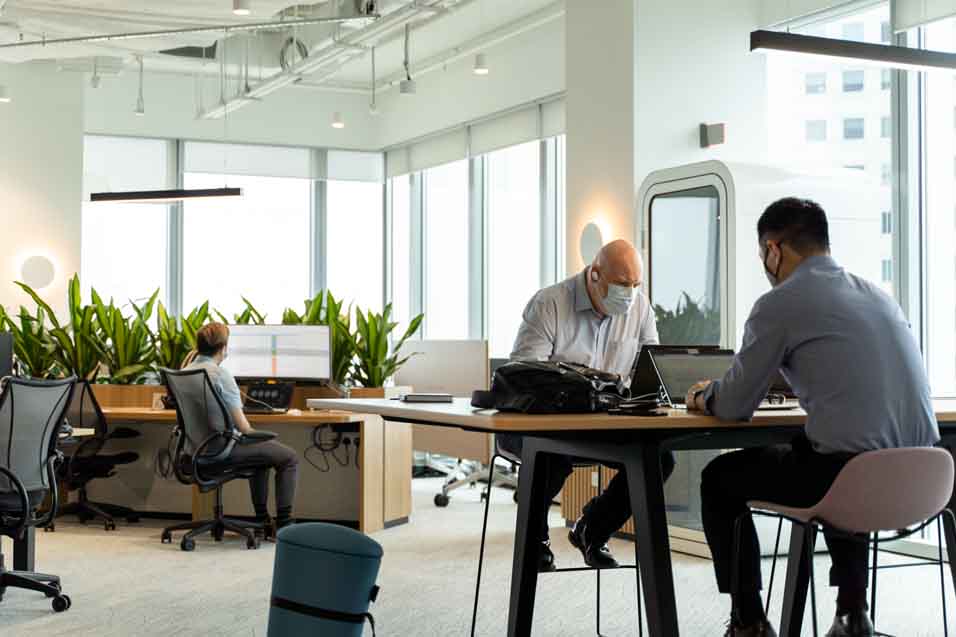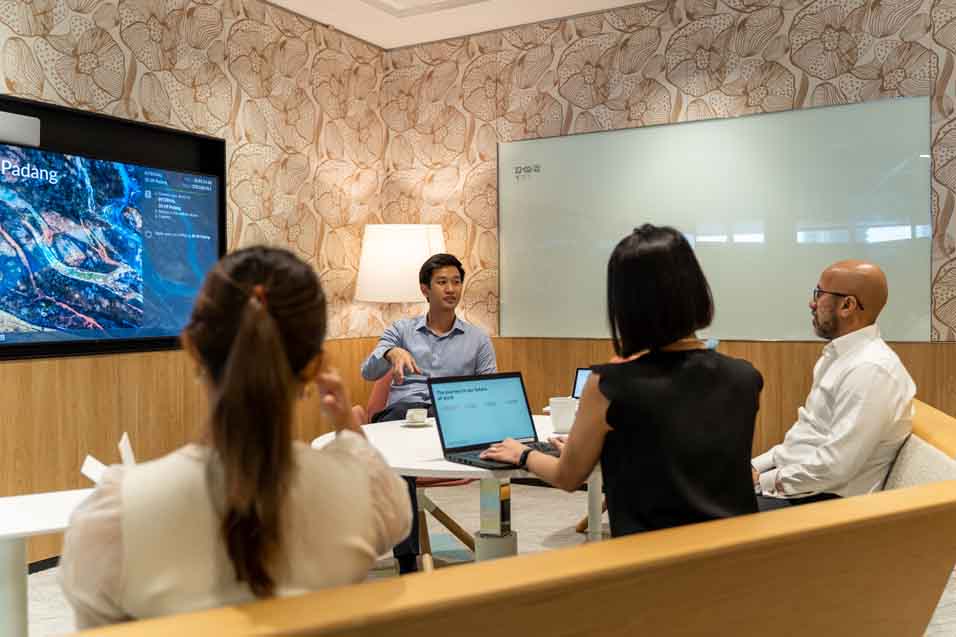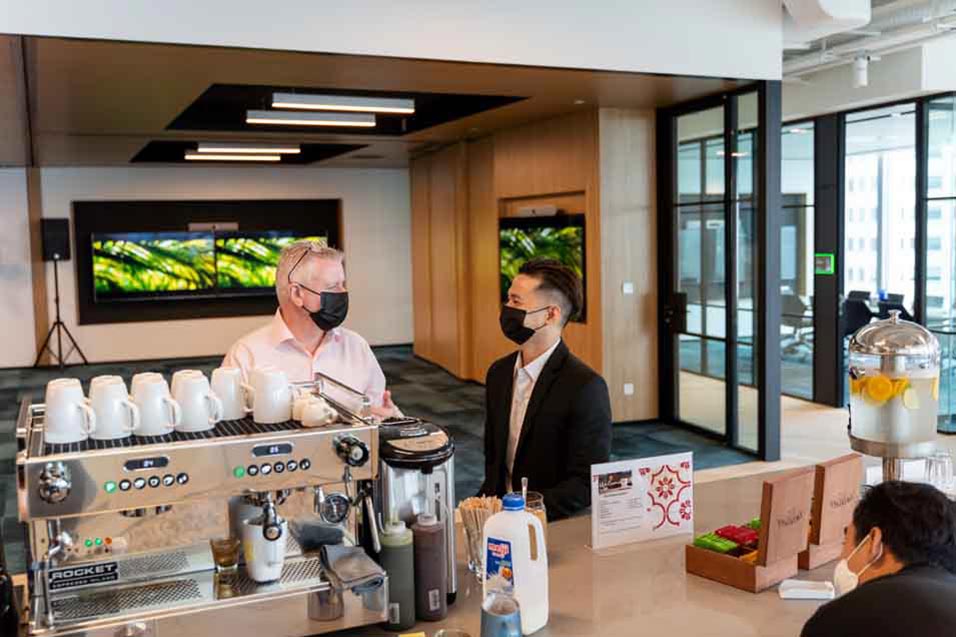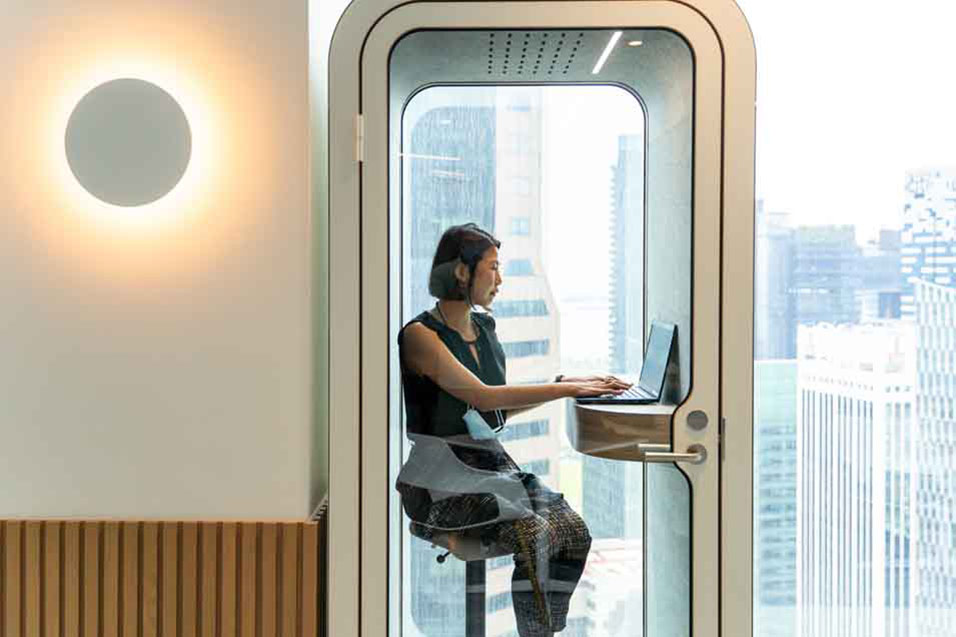 Green building with Grade A office facilities
Our leasing team leveraged its vast network to find the perfect space that suits our business needs. CapitaSpring is a new Grade A office building constructed with sustainability in mind. The building offers work-live-play amenities, car-lite facilities, and lush greenery with its 35-metre-tall Green Oasis and rooftop garden.
A healthy, sustainable space for our people
Built to Green Mark and Well platinum standards, the workplace experience has wellness and sustainability in mind. Floor-to-ceiling windows allow natural light to enter the workspace. A green moss wall and over 200 plants support our colleagues' ambitions for sustainable living. Automated systems take care of our air quality, lighting and occupancy limits to ensure our day-to-day comfort.
A work café, prayer room and nursing room give us opportunities to unwind and cater to our colleagues' need for work-life harmony.
Lower energy consumption with LED lights
Daylight harvesting to reduce energy consumption
Occupancy sensors to control lighting
Staff sales and charity drive to give furniture a second life and reduce landfill waste
Filtered still and sparkling water dispensers (and beer tap)
Low VOC materials used for fit-out
Waste management system in place for food, recyclables and general waste
Our new CBD office is the hard-earned reward of months of collaboration despite limitations brought about by the pandemic – and we are thrilled to share this space with you. We hope to show you around soon!