APAC tourism: Southeast Asia leading 2022
Southeast Asia is paving the way for tourism recovery in Asia Pacific and is expected to record USD1.5 billion of hotel investment volume for 2022.
Southeast Asia is at the forefront of the tourism recovery in Asia Pacific. By significantly easing or even lifting the restrictions related to travel, countries in the subregion have reopened their borders to all international short-term visitors, and not only to residents, paving the way for an acceleration of mobility and a rebound in hospitality.
Reopening to the rest of the world has unleashed pent-up demand for tourism in Southeast Asia. In the first two months of 2022, Southeast Asia has welcomed more than 580,000 international visitors in total, a substantial +102% increase year-on-year (excluding Malaysia and the Philippines due to data constraints). Specifically, Thailand is leading the charge with almost half of all international visitors in the subregion as at YTD February 2022, as it was the first country in Asia Pacific to initiate the reopening to international tourism back in July 2021 with its Phuket Sandbox programme. Within the first three months of its launch, the island has welcomed around 42,000 international tourists. Elsewhere, destinations are anticipated to record a gradual increase of foreign visitors, from both leisure and corporate segments, towards the end of 2022 with more flights resuming, and more large-scale events hosted (F1 in Singapore, G20 Bali Summit, etc.).

Figure 1: Recovery of international visitor arrivals in Southeast Asia (relative to 2019)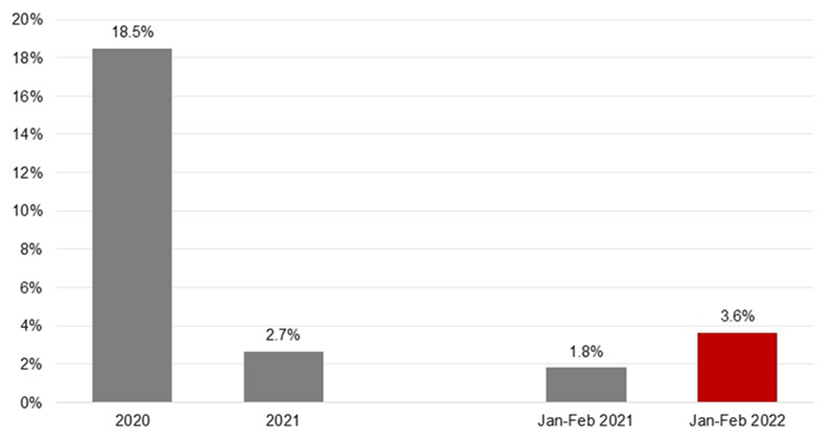 The positive data from at the beginning of 2022 are encouraging Southeast Asian countries to set ambitious targets for the year: Vietnam is aiming to welcome 5 million international tourists this year, Thailand is expecting 5.5 million and Indonesia, 3 million. The Philippines Department of Tourism is expecting 2 to 5 million international tourists in 2022. Resorts in these countries should act as a magnet for international tourists eager to travel again for leisure at long-haul destinations.
With this positive outlook, investors are on the hunt for opportunities to acquire hotel assets in the subregion, to be ready for the great return of foreign tourists. Destinations in Southeast Asia are expected to record a total hotel investment volume of USD1.5 billion for the full year 2022, a significant rise of 86% year-on-year. More specifically, Singapore and Indonesia are expecting to record the highest y-o-y growth in 2022 as measured by investment volumes.

Figure 2: JLL Forecast: Hotel Investment Volume 2022 – Southeast Asia