Bangkok's ageing offices: asset enhancement
In Bangkok, large future supply is forcing landlords to enhance or demolish existing office buildings in order to remain competitive.
Over the past decade, a large number of new high-quality office buildings have emerged across the Bangkok metropolitan area. Consequently, buildings built before 2002 are labelled as 'ageing'. As of the first quarter of 2022, more than two-thirds of Bangkok's office stock was classified as ageing, with a significant portion of these buildings poorly maintained compared to newer stock. Occupiers began relocating to premium office buildings due to limitations of outdated spaces in adapting to new hybrid working models and high maintenance costs.
Figure 1: Bangkok's for-lease office stock by age groups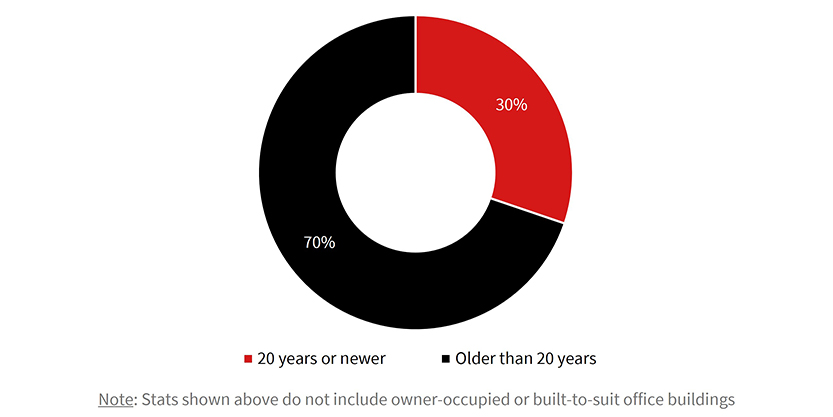 After the outbreak of the pandemic in early 2020, office occupiers in Bangkok began adapting to work-from-home, reducing demand for workspace. Rising vacancy pressured landlords to offer discounts to secure occupancy and maintain their cash flow, while occupiers enjoyed wider options to pick and choose their desired locations. The vacancy gap between modern and ageing office stock has become increasingly wide, shrinking the rental premium gap. Looking through 2026, over two million square metres of upcoming premium office space will attract flight-to-quality occupiers and increase vacancy rates in existing stock, particularly in ageing buildings.
Figure 2: Office vacancy rate across for-lease assets by age groups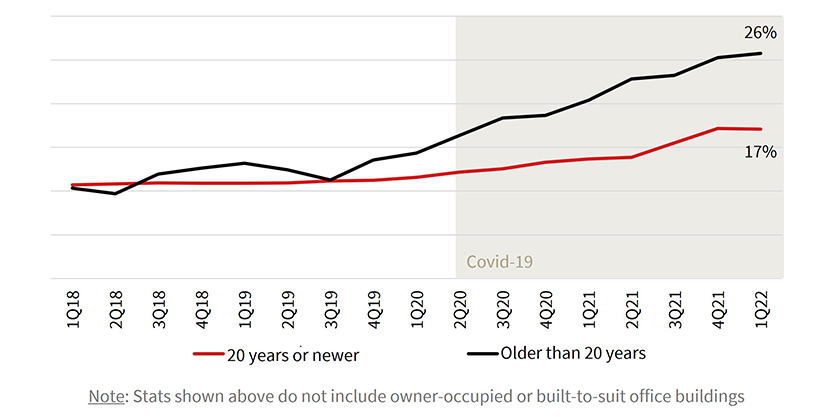 Figure 3: Gross monthly rental comparison by age groups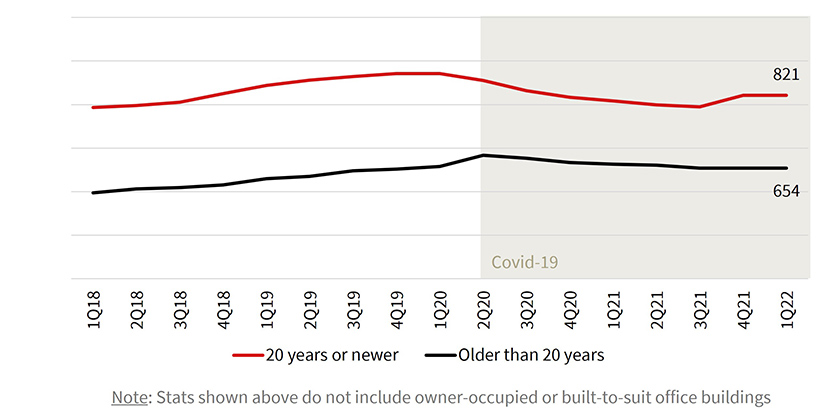 With slow economic recovery, high inflation and the new land and building tax rates, the impertinent question arose: how can landlords enhance returns from their existing buildings? JLL Thailand observes a handful of ageing office assets in the city centre, with perfect locations, that achieve unsatisfactory cash flow. Landlords may consider redeveloping from the ground up, which allows the highest and best use for the lands. However, the redevelopment investment will also include high construction and demolition costs, along with increased competition among new supplies in the market.
"Asset enhancement" has gained popularity among well-located Grade B and C office assets to improve their cash flow and net operating incomes (NOIs). Investment costs typically range from THB 30 million to 200 million (roughly between USD 850,000 and 5.8 million) depending on the individual asset, while redevelopment typically costs up to THB one billion (nearly USD 28 million). Some investors aim for LEED-certified standard, which requires higher investment but is worthwhile in the long run, thanks to the energy savings and its attractiveness to major multinational corporations. The current market proves that asset enhancement has the potential to maintain occupancy rates to a healthy level above 80% and generate rental increases of up to 20% compared to pre-enhancement.
Despite any structural change, landlords can review their assets under the following categories: wellness, human experience, sustainability, and technology. These cover popular options such as revamping the common area and retail podium, upgrading the façade, providing communal areas and healthy food options and converting underutilised space into money. Similarly, integrating smart proptech will improve property management capability, energy-saving, security, and indoor well-being quality.
The optimal building upgrade helps futureproof assets and allows them to remain competitive in the challenging market, which is reflected in the rental improvement and reduction in operation costs. With higher income and building quality, enhanced projects are appraised with higher values against the depreciation, benefiting landlords and forthcoming investors.