Bumpy start for Singapore's residential market
Our experts review the Urban Redevelopment Authority's residential figures for 1Q20
In 1Q20, the primary market was slower than the previous quarter and less active than the same period last year in terms of new launches. The 2,093 new private homes launched in 1Q20 was 6.0% lower q-o-q and 30.0% lower y-o-y.
Developer sales of 2,149 private residential units was a drop of 12.0% q-o-q but 16.9% higher y-o-y. Generally, new homes sales started to slow down in March as the economic downturn began to bite and the market grappled with increasingly stringent safe distancing measures in the last month of the quarter. Of the 2,149 units sold in the primary market in 1Q20, 37.7% or 810 units were in Outside Central Region (OCR) while Rest of Central Region (RCR) accounted for 36.2% or 779 units. This indicates that affordability remains a key demand driver for most projects.
Sales of private homes in the secondary market, registered 2,120 units in 1Q20, which is a 12.9% decrease from 4Q19 but 11.3% higher y-o-y.
With the circuit breaker extended to 1 June, there will be minimal market activity in April and May, so we can expect 2Q20 sales volume to decline sharply in both the primary and secondary markets. During the global financial crisis (GFC), total transaction volume in 2008 plunged by two-thirds from 2007. This was due to a highly exuberant market in 2007 when 40,654 private homes changed hands. By contrast, the total transaction volume in 2019 was only 19,150 units, largely due to the cooling measures being in place. Therefore, while total transaction volume in 2020 may not decline as badly as 2008, it is possible that it could be around 40% to 50%.
Prices have started to soften
The COVID-19 outbreak and economic slowdown have started to manifest its impact on the private residential market. The URA's overall private residential property price index declined by -1.0% in 1Q20, following three consecutive quarter-on-quarter (q-o-q) gains. The -1.0% drop was slightly less than the -1.2% recorded during the flash estimates. It was partly due to a less severe price drop for landed-homes by -0.9% compared to flash estimates.
Prices of non-landed properties eased -1.0% q-o-q in 1Q20, same as the flash estimates after dipping 0.3% in the previous quarter. Among the three market segments, prices of non-landed homes in CCR suffered the most severe drop of -2.2% followed by -0.5% in RCR and -0.4% in OCR. The current market downturn would have impacted demand for properties in the CCR more significantly due to their high values which has a smaller pool of demand.  
A fair correction in prices is expected in 2020, but not to the magnitude of the 24.9% plunge over four quarters during the GFC. Unlike the preceding years of the GFC when prices rose sharply, price increases in recent years have been mild due to the cooling measures, thereby averting an asset bubble. The support from the three rescue Budgets released in less than two months, which aims to stem job losses, as well as the recent loan relief measures allowing homeowners to defer mortgage payments until end of 2020 might help to cushion the fall in property prices.
Unsold inventory continues to ease
According to URA, there were 29,396 unsold units as at 1Q20, 3.5% lower than that in 4Q19 and a sharp 22.2% decline from the recent high of 37,799 units in 1Q19. Four consecutive quarters of downtrend indicates that the oversupply situation is gradually improving.
Residential land sales have been relatively subdued in the quarters after the introduction of cooling measures in July 2018. This resulted in addition to supply inventory being outpaced by primary market sales, reducing the inventory of units for sale.
Nonetheless, given the new home sales take-up of 9,912 units in 2019 and the projected significant drop in new private homes sales volumes this year, the effect of the oversupply will still be felt.
Rentals rise in 1Q20 but expected to soften full year
The residential rental index rose by 1.1%, reversing the -1% drop in 4Q19. Rents for landed homes dropped moderately by -0.9% during the quarter compared to a -1.6% decline in 4Q19. The non-landed rental index, which slipped by -0.9% in 4Q19, rose marginally by 1.3% in 1Q20.
The increase in the overall rental index was mainly due to vacancy rates remaining tight. Vacancy rates eased further from 5.5% in 4Q19 to 5.4% in 1Q20. Although net absorption declined significantly from 3,816 units in 4Q19 to 1,521 units in 1Q20, it still exceeded the net new supply during the quarter as the supply of completed units remained relatively low.
Across the three market segments, the changes in the sub-markets were mixed. Only OCR registered an improvement in vacancy rate from 4.7% in 4Q19 to 4.1% in 1Q20. That explained the largest increase of 1.9% in rents for this market segment, as compared to rent increases in RCR and CCR at 0.6% and 1.4%, respectively. Tenants seem to have been attracted to properties in the OCR due to their more affordable rents.
Rents are expected to soften moderately in 2020 as leasing demand is likely to weaken notwithstanding low vacancies. As the recession kicks in and businesses come under greater pressure, headcounts will be frozen or reduced, which will also affect expatriates leasing private homes. There are already situations of new leasing deals not being concluded as well as leases not being renewed.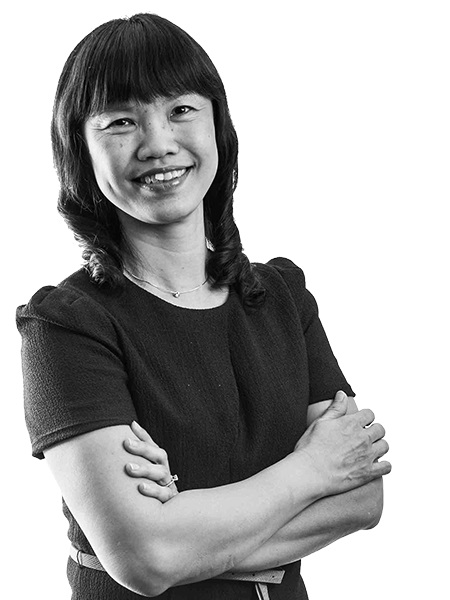 Tay Huey Ying
Head of Research and Consultancy