Hilti's future-ready workplace maximises customer success and employee productivity
Breaking loose from industry traditions, the new Singapore workspace enables hybrid working and collaboration, with 23% rent savings
Size
14, 500 sq ft over one single contiguous space (18% reduction in total leased area)
People
Overall workplace satisfaction more than doubled to 93%
Technology
77% satisfied with smarter technology in place
Spotlight
23% reduction in rent
JLL partnered with Hilti Singapore to find a new office space and create a flexible workplace strategy that reimagines both client and employee experiences.
Empowering Hilti's customer-centric approach
Leading global construction tools manufacturer Hilti is passionate about building a better future by driving innovation in what is perceived to be a traditional industry. Hilti's progressive approach to customer success has never been about just sitting in an office. More than ever before, Hilti's sales team and field engineers go onsite to work closely with clients to truly understand their needs and identify solutions to construct buildings faster, easier, and safer.
Hilti Singapore set out to create a new workspace to meet their evolving business needs, and to enhance productivity and collaboration among their teams working in the office, onsite, and remotely.
Time for change
Hilti Singapore's previous non-contiguous office space was antiquated, inefficient and stifled collaboration. Spread across two storeys, each department had separate meeting rooms and waiting areas that created silos. Assigned seats, high-partitioned workstations and private offices, and lots of filing and equipment storage space limited opportunities for socialisation and relaxation.
The evolution of workstyles at Hilti Singapore made employees uncertain about how they would adapt, especially since the old office was far from the city center. Additionally, it offered few amenities such as places to eat. The health and wellness of employees who worked in the office was impacted and it was unappealing for those who were working away from the office to return.
An integrated approach
Our One JLL team took a holistic approach to help Hilti Singapore break away from the confines of a traditional office. JLL's integrated Tenant Representation, Workplace Strategy, and Project Management teams worked together seamlessly and provided the client with a single point of contact across all three services to guide Hilti's workplace transformation and manage this complex project.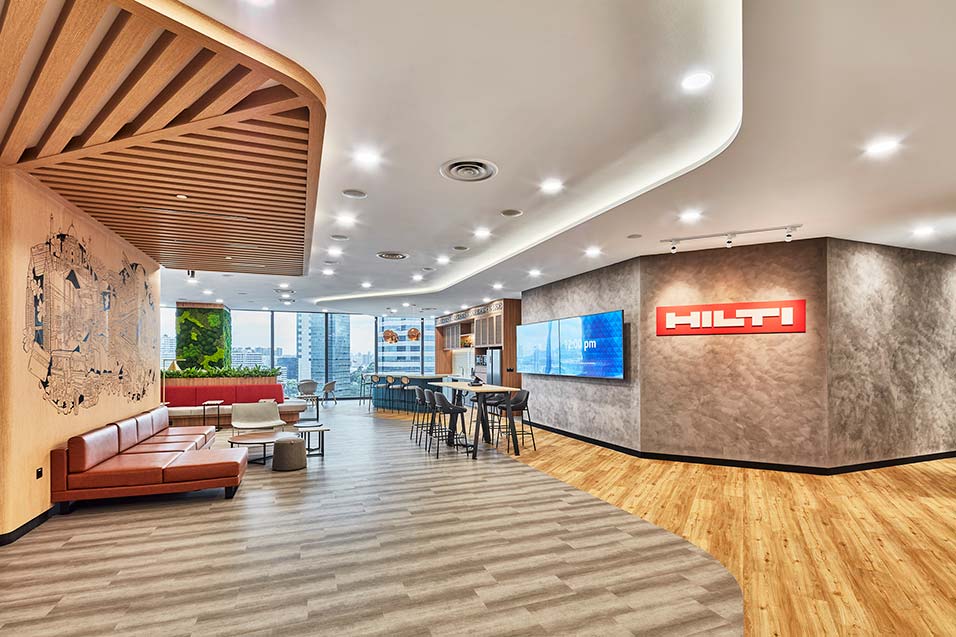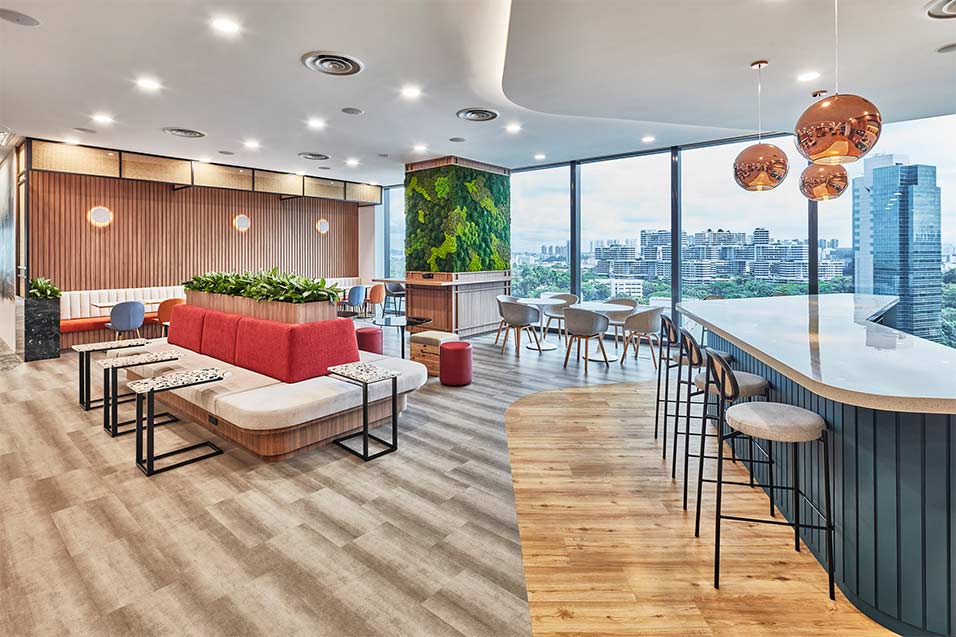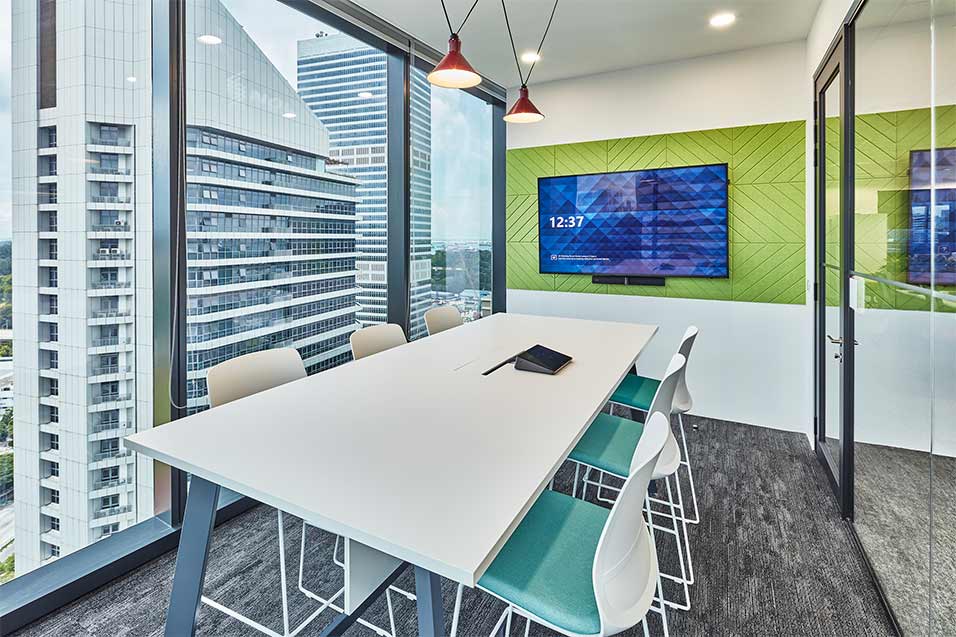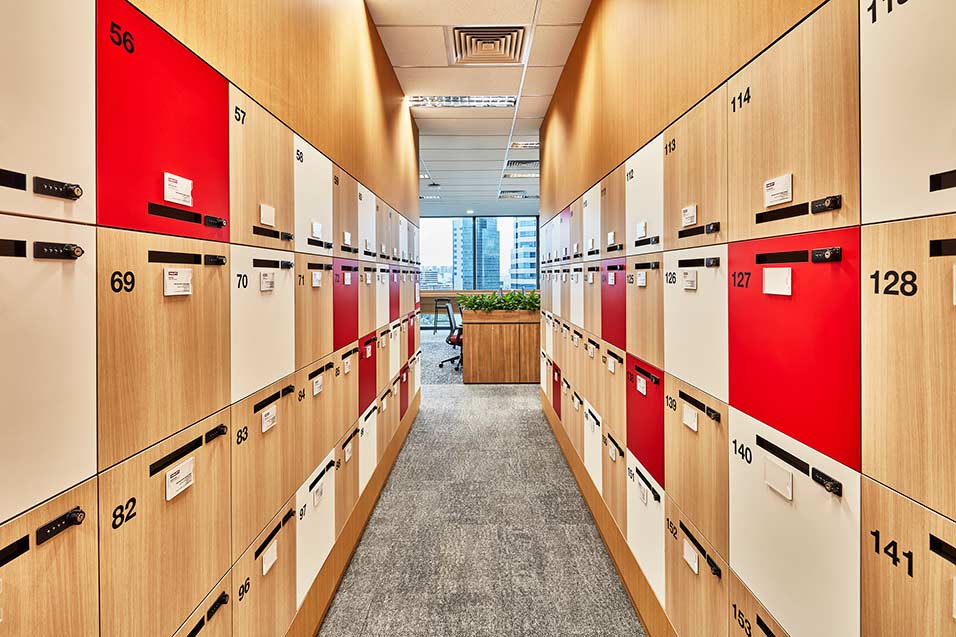 "Through engagement with JLL and our employees, we have created a very adaptable, welcoming, and inclusive new workplace, providing best in class digital experience and fostering flexible working for our employees."
Olivier Petit,
Regional Head of Human Resources, Hilti Asia Pacific Pte Ltd
A brighter way of working for Hilti
The first step was to create a workplace strategy to enable seamless collaboration and enhance productivity for Hilti Singapore colleagues whether in the office or working remotely or onsite.
JLL's Stakeholder Engagement team led leadership interviews, staff surveys, and workshops to ascertain the aspirations Hilti's management and staff had for their next office. The conclusion: Hilti Singapore needed an office that caters for multiple tasks and work styles, socialising and wellness, with the ability to accommodate future headcount growth.
With this clear understanding of Hilti's business and people needs, our Workplace Strategy team envisioned how Hilti Singapore's future-ready office would best support the needs of a hybrid workforce. The Singapore plans were aligned with Hilti's global workplace strategy guidelines to ensure global standardisation.
The perfect place for transformation
Hilti Singapore's office selection criteria included location, building type, and accessibility. JLL's Tenant Representation team identified suitable market options and our Project Management team advised on technical suitability and feasibility. We looked at a wide range of financial scenarios, and the relative benefits of being in an office building or in a business park.
Arising from this analysis, Hilti Singapore decided on 14,500 sq. ft. of contiguous space at 80 Mapletree Business City (MBC), one of the largest business parks in Singapore. With a total leasing area reduced by 18% from their previous office, our Tenant Representation team secured a favourable leasing deal for Hilti when market demand was down during the pandemic and reduced the total rent by approximately 23%.
In addition, we negotiated an extended rent-free period to ensure sufficient time for the fit-out to accommodate any pandemic-related delays sourcing materials or accessing manpower.
A flexible, future-proof workplace
MBC's campus-style Green Mark Platinum certified work environment has a full suite of modern amenities that support the health and wellness of Hilti Singapore's employees, including a wide variety of dining options, a gym, a childcare centre, and a clinic. The Grade A development is easily accessed via train, bus, and car.
Clients and colleagues entering the new office are greeted with green, open views of The Southern Ridges. Floor-to-ceiling windows allow ample natural light into the space, reducing the need for artificial lighting, while plants breathe life into the workspace.
Despite the overall smaller space leased, the large, efficient floorplan enables employee interaction and provides an ideal setting for every task and working style. Sit-stand desks, open collaboration areas, focus pods, and huddle rooms eliminate physical barriers, making cross-departmental collaboration easier than before. Meeting room technology is seamlessly integrated to enhance productivity and experience. In fact, 77% of the employees are satisfied with the smarter technology in place.
The workplace changes more than doubled Hilti overall employee workplace satisfaction to 93%. Here are some feedback from colleagues: "I feel a greater sense of belonging #greatworkplace"; "I am more engaged and excited to come to the office everyday"; and "I feel empowered with my work and enjoy collaborating with my colleagues in person".
Hilti Singapore now enjoys unparalleled adaptability and flexibility to support future business and headcount growth. JLL is now using the highly efficient, collaborative Singapore space as a model to transform more Hilti workplaces across the Asia Pacific region.

"Through engagement with JLL and our employees, we have created a very adaptable, welcoming, and inclusive new workplace, providing best in class digital experience and fostering flexible working for our employees," says Olivier Petit, Regional Head of Human Resources of Hilti Asia Pacific.

"By reviewing our full workplace ecosystem, interactions in and out of the office, digitally or physically, we have built a truly great place for us to work. This is a game changer in our people engagement journey."
Future-proof your next office
Create a workplace that ensures your business and people thrive.